Hosea 4:3 …'Therefore shall the land mourn, and every one that dwelleth therein shall languish, with the beasts of the field, and with the fowls of heaven; yea, the fishes of the sea also shall be taken away.'
MASS ANIMAL DEATH LIST                     Event Summary for 2014 – 115 Known Mass Death Events in 32 Countries
Millions more Bees dead! … Beekeeper Jose Luiz Santos of Sao Paulo, Brazil had 30 hives and was expecting to produce a ton of honey. But he found all his Bees dead. Pesticides are suspected. (December 2013) Link
25th February 2014 – 100 Dolphins, Turtles, Sea Lions and Sea Birds turn up dead along coast of Peru. Link
25th February 2014 – Hundreds of dead fish appear in freshwater lake, 'never seen before' in Dongguan, China. Link
24th February 2014 – Thousands of dead crabs plus other marine species found on beach 'causing concern' in Antofagasta, Chile. Link
24th February 2014 – 2,500 Cattle dead due to outbreak of disease in Sukhbaatar, Mongolia. Link
23rd February 2014 – 15,000 sea birds found dead during past month along west coast of France. Link
23rd February 2014 – Mass die off of fish discovered in reservoir, 'cause unknown' in Quang Ngai, Vietnam. Link
22nd February 2014 – Die off of Bees found … 'All that was left was their skeletons' in Murwillumbah, Australia. Link
22nd February 2014 – Hundreds of dead and dying sea birds continue to wash up on beaches in Dorset, England. Link
21st February 2014 – Thousands of chickens killed due to avian flu in Sunsari District, Nepal. Link
20th February 2014 – 84,000 Cattle dead from flooding and disease in Beni, Bolivia. Link
20th February 2014 – 165,000 fish dead due to volcanic ash in Bantul, Indonesia. Link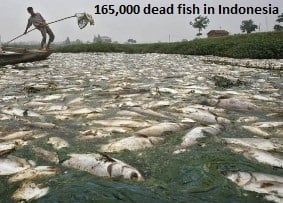 19th February 2014 – Hundreds of Cormorant Birds found dead on a beach in BioBio, Chile. Link
19th February 2014 – Large fish kill in a creek in Capiata, Paraguay. Link
18th February 2014 – 100 TONS of dead fish found on the banks of River Tiete in Brazil. Link
18th February 2014 – 324,000 birds killed due to outbreak of avian flu in Guizhou, China. Link
18th February 2014 – Hundreds of sheep and goats killed due to outbreak of disease in Ningxia, China.Link
18th February 2014 – Hundreds of dead fish wash ashore on beaches in Mallorca, Spain. Link
17th February 2014 – 5,000 sheep and goats killed due to outbreak of disease in Inner Mongolia, China. Link
17th February 2014 – 300 TONS of fish suddenly die in the River Kelekar, Sumatra, Indonesia. Link
16th February 2014 – 10,000 livestock have died due to drought in Chulucanas, Peru. Link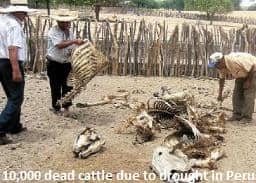 16th February 2014 – Hundreds of sea birds wash up along South West coast of England. Link
15th February 2014 – Hundreds of cattle dead due to 'mystery illness' in Misiones Province, Argentina.Link and here
14th February 2014 – Thousands of birds found dead, due to avian flu in Trenggalek Regency, Indonesia.Link
13th February 2014 – MILLIONS of dead fish wash ashore on Lake Manyas, Balikesir, Turkey. Link
13th February 2014 – Thousands of fish have died 'due to environmental factors' in Lampung, Indonesia. Link
12th February 2014 – Thousands of fish found dead in a river in Rio Piracicaba, Brazil. Link
12th February 2014 – 160 TONS of dead fish found along Johor Straits in Singapore. Link
12th February 2014 – Thousands of birds killed due to avian flu in various provinces in Vietnam. Link
11th February 2014 – 9 Orca Whales found washed up dead near Tuatapere in New Zealand. Link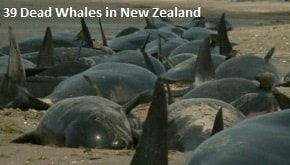 11th February 2014 – Mass die off of fish and shrimp due to 'red tide' in Hainan, China. Link
11th February 2014 – Thousands of dead fish found floating in a river in Riau, Indonesia. Link
10th February 2014 – MILLIONS of Bees found dead near hives in Murcia, Spain. Link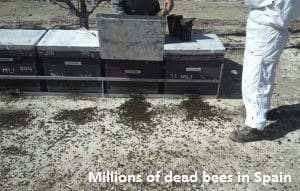 10th February 2014 – 100 sea birds wash up dead or dying on Chesil Beach in Dorset, England. Link
8th February 2014 – Thousands of dead fish found in a river in Bera, Malaysia. Link
8th February 2014 – Hundreds of livestock killed by snowstorms in Xinjiang, China. Link
6th February 2014 – 225,000 Birds, 8,000 sheep, 150 goats dead from flooding in Central Java,Indonesia. Link
6th February 2014 – 60,000 fish killed due to outbreak of virus at Robertson Creek, BC, Canada. Link
6th February 2014 – 10,000+ fish found dead in Vasse Estuary, Australia. Link
5th February 2014 – 70 TONS of fish have died in Lake Sebu in South Cotabato, Philippines. Link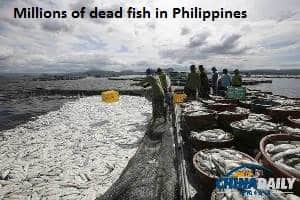 5th February 2014 – 12 dead Albatross found on Ripiro Beach, 'never seen anything like it' in New Zealand. Link
5th February 2014 – 2.4 MILLION+ Chickens and Ducks killed due to outbreak of Avian flu in South Korea. Link
5th February 2014 – Hundreds of fish found dead in Bashan Park River in Singapore. Link
4th February 2014 – 1,122+ Turtles wash ashore dead during January on beaches in Andhra Pradesh, India. Link
4th February 2014 – 400+ dolphins wash up dead during January on beaches in Northern Peru. Link
3rd February 2014 – Millions of Sea stars still dying off on west coast of America. Link
3rd February 2014 – Thousands of bees die off 'due to pesticides' in Pontalinda, Sao Paulo, Brazil. Link
2nd February 2014 – Thousands of fish found dead in a river in Banyumas, Indonesia. Link
30th January 2014 – Hundreds of cattle dying due to 'mystery disease' in New South Wales,Australia. Link
29th January 2014 – Hundreds of dead fish appear in Kings River, California, America. Link
29th January 2014 – Hundreds of Chickens die suddenly in Madiun County, Indonesia. Link
29th January 2014 – 10 Tons of fish die suddenly in lake Maninjau, West Sumatra, Indonesia.Link
29th January 2014 – Masses of fish and squid wash ashore dead on beach in Kauai, Hawaii, America. Link
28th January 2014 – 20,000 Birds killed due to outbreak of avian flu in Hong Kong, China. Link
28th January 2014 – Tens of thousands of dead fish washing up along a river in Tennessee, America. Link
27th January 2014 – Tons of fish found dead in two dams in Bandung Regency, Indonesia. Link
24th January 2014 – 25 dead whales found near Kice Island in Florida, America. Link
24th January 2014 – Thousands of dead fish found near River Thames in Oxfordshire, England. Link
23rd January 2014 – 10,000 Chickens die suddenly due to avian flu in Kudat, Malaysia. Link
23rd January 2014 – Hundreds of dead birds found, 'never seen anything like it' in Burleson, Texas, America. Link
23rd January 2014 – Millions (120 TONS) of fish have died in a lake in Batangas, Philippines. Link
22nd January 2014 – 1,000 Birds dead from outbreak of disease in Kaiapoi, New Zealand. Link
22nd January 2014 – Hundreds of dead fish washing up at Thompson's Bayou in Florida, America.Link
21st January 2014 – Millions of Oysters have died suddenly during past 2 months from 'mystery disease' in Port Stephens, Australia. Link
21st January 2014 – 8 Whales dead, more stranded off the coast of Florida, America. Link
20th January 2014 – 19,000 Birds killed due to Avian flu in Shandong, China. Link
19th January 2014 – 'Scores' of Buffaloes dead from 'mystery disease' during past few weeks in Rewari, India. Link
18th January 2014 – Tens of thousands of dead fish wash up along entire beach in Vargas, Venezuela. Link
18th January 2014 – Mass die off of fish occuring in a branch of the Nile in Desouk, Egypt. Link
18th January 2014 – 70+ Whales Stranded, (numbers changing) 20 dead on beaches in Golden Bay,New Zealand. Link
18th January 2014 – 1,000 Ducks found dead in a reservoir in North Jeolla Province, South Korea.Link
18th January 2014 – Tons of dead fish washing up on beaches in Lambayeque, Peru. Link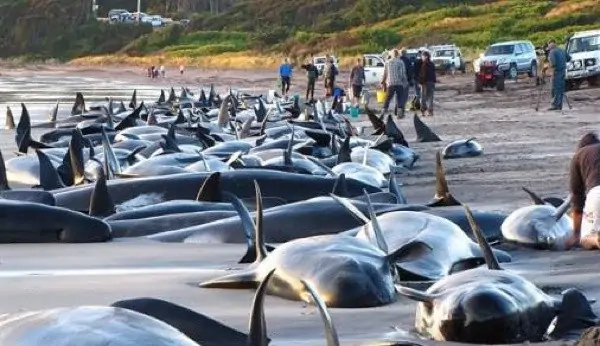 17th January 2014 – Thousands of dead fish appear on the shores of a river in Old Lyme, Connecticut,America. Link
17th January 2014 – 26 Dolphins, 15 Turtles, 11 Sea Lions found washed up dead along coast of Piura, Peru. Link
17th January 2014 – 20,000 fish have died off the coast of Mati, Philippines. Link
17th January 2014 – 5,300+ dead fish found in Clinton Lake, Illinois, America. Link
17th January 2014 – Large die off of fish in a river in Qinhuai, China. Link
16th January 2014 – Hundreds of ducks die suddenly due to bird flu in Wonogiri, Indonesia. Link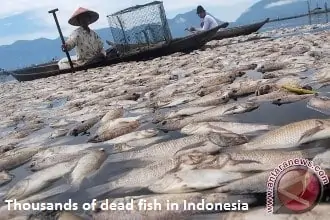 15th January 2014 – 7 Dolphins, 2 Sea Lions, 1 Whale found dead along coast of Sinaloa, Mexico. Link
15th January 2014 – Large die off of Shrimp 'due to disease' in Ernakulam, India. Link
15th January 2014 – 100,000 dead fish in Sparks Marina, 'reason unknown' in Nevada, America. Link
14th January 2014 – Mass die off of Wild Boars 'due to disease' in Lithuania. Link
14th January 2014 – Thousands of Cattle dead due to flooding in Tabasco, Mexico. Link
14th January 2014 – 13 whales stranded, 5 dead, 8 to be killed in Farewell Spit, New Zealand. Link
14th January 2014 – Thousands of fish have died 'due to cold' in Olentangy River, Ohio, America. Link
14th January 2014 – Tons of fish found dead, 'worst fish kill ever' in a river in Mindanao, Philippines. Link
13th January 2014 – Massive fish die off due to sea freezing so fast in Lovund, Norway. Link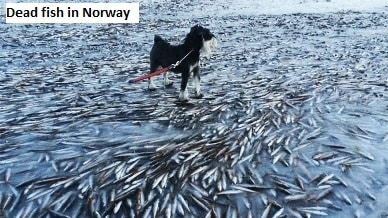 13th January 2014 – 50,000 Birds killed due to avian flu in Hubei, China. Link
11th January 2014 – Thousands of various fish found dead in a river in Sao Paulo,Brazil. Link
10th January 2014 – A large number of parrots, kangaroos and emus found dead 'due to heatwave' in Australia. Link
10th January 2014 – 10,000 birds killed due to avian flu in Bac Ninh, Vietnam. Link
10th January 2014 – Thousands of fish dead due to pollution in a river in Durban, South Africa. Link
9th January 2014 – 150 Ducks dead due to outbreak of bird flu in Redwood City, California, America. Link
8th January 2014 – 100,000 bats fall dead from sky in Queensland, Australia. Link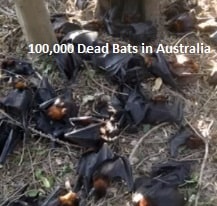 8th January 2014 – 35 Turtles wash ashore dead along the coast of Chennai, India. Link
8th January 2014 – Hundreds of dead fish appear in a lake is a 'mystery' in Buenos Aires, Argentina. Link
8th January 2014 – Hundreds of dead fish found in a river in Minas Gerais, Brazil. Link
8th January 2014 – Mass fish kill 'due to pollution' in a pond in Foshan, China. Link
8th January 2014 – Hundreds of dead fish wash up on shores of a lake in Oran, Algeria. Link
7th January 2014 – 40 Bald Eagles now dead from 'virus' in Utah, America. Link
6th January 2014 – 4,700 Cattle dead from outbreak of Foot and Mouth in Kerala, India. Link
6th January 2014 – 2 rare Whales dead after beaching on Long Island is 'unusual' in America. Link
6th January 2014 – 39 Pilot Whales dead after stranding on beach in New Zealand. Link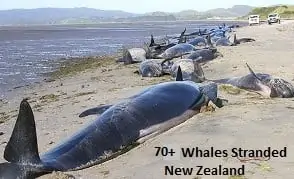 6th January 2014 – Hundreds of ducks die suddenly in Malang, Indonesia. Link
6th January 2014 – Massive fish kill due to pollution in a river in Kurger Park, South Africa. Link
6th January 2014 – Hundreds of fish found dead in a lake in La Molina, Peru. Link
5th January 2014 – Hundreds of dead fish found in a pond, 'like the apocalypse' in Varbina, Bulgaria.Link
4th January 2014 – 500+ Goats dead from outbreak of plague in Xinjiang, China. Link
4th January 2014 – 47 Marine animals (seals, turtles, dolphins, birds) found dead on beach in Chiclayo, Peru. Link
3rd January 2014 – Tons of dead fish found in a river in San Martino in Rio, Italy. Link
3rd January 2014 – Second mass die-off of Sardines during past 2 weeks washes up on beaches in Valparaiso, Chile. Link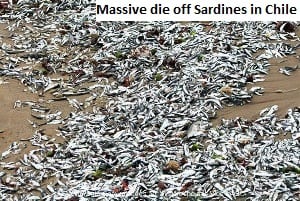 3rd January 2014 – Large die-off of fish found in a river in Hsinchu County, Taiwan. Link
2nd January 2014 – NOTE: 20,000 Birds have died since November due to disease around Great Salt Lake in America. Link
2nd January 2014 – 23,000 Chickens killed due to bird flu in Guizhou, China. Link
2nd January 2014 – Hundreds (maybe thousands) of fish have died in a lake in NSW, Australia. Link
1st January 2014 – Thousands of fish, including turtles and ducks dead from 'fuel spill' in Culiacan,Mexico. Link
1st January 2014 – Thousands of dead fish washing up on beaches in El Oro, Ecuador. Link
1st January 2014 – Massive fish die off in fish ponds in Thong Nhat, Vietnam. Link
If you are affected by this information, then please see what must I do to be saved?
There is no doubt that these mass animal deaths occuring around the world today is one of the many signs of the times, showing that we are living in the last days. Throughout history we have not seen animals dying in these kinds of numbers all around the world. But the earth and the seas are so polluted now from man made chemicals and oil spills, the animals just don't stand a chance! But this was to be expected, as God has already warned us through Bible prophecy that this world is heading for complete ruin. Friends, it's time to turn to Christ Jesus. He is our ONLY hope for the future.
See MASS ANIMAL DEATHS 2013 for the 2013 list.
See MASS ANIMAL DEATHS 2012 for the 2012 list.
See MASS ANIMAL DEATHS 2011 for the 2011 list.
2011 list.