"Orthodox Judaism above all is, a religion of deceit and self-worship, and pride is the paramount destroyer," says Michael Hoffman who adds:
 
 "I view my work as an expression of love for Judaic people and as a conduit for their liberation."
 
Politics today is a "debate over which vehicle is best for the supremacy of the Judaic people over humanity: … Bolshevism [Soros] or Zionism [Trump]?"
by Michael Hoffman (Interview with The Saker)
(Excerpts by henrymakow.com) 
A prime source of Jew-hate is Talmudism itself, which oppressively tyrannizes and micromanages the lives of Judaics born through no fault of their own, into its psychic prison, while Israeli Zionism imprisons Judaics in a permanent war footing with the indigenous people of the Middle East. To free Judaic persons from these two prisons is an act of compassion and charity. We should never forget that our work is pro-Judaic. It is the Talmudic and Kabbalistic rabbis and Zionists who are putting Judaic people on the road to ruin.
Orthodox Judaism, which is the scion of the religion of the ancient Pharisees, is above all, self-worship, and pride is the paramount destroyer. In the occult scheme of things, the ideology closest to it was Hitler's National Socialism, in that it shares this predominant characteristic of pathological narcissism.
Christians and many other goyim (gentiles) have been deluded into imagining that Judaism, while being somewhat flawed due to rejecting Jesus, nonetheless manages to be an ethical religion reflective of the prophets of the Old Testament. Hillel, the first century A.D. Pharisee who is believed to have been a contemporary of Jesus, and Moses Maimonides ("Rambam"), the medieval philosopher and theologian, are most often held up as exemplars of this supposed ethical Judaism…The myth of the benevolence of these two can only be sustained by ignorance…
CHOSEN PEOPLE NONSENSE IS JEWISH SUPREMACISM
Another defining theological aspect of Orthodox Judaism is its dogma that non-Jews are less than human. This is how the goyim are viewed in the Talmud and its sacred successor texts. In certain branches of Kabbalistic Judaism, such as the politically powerful and prominent Chabad-Lubavitch sect, their founder, Rabbi Shneur Zalman, formally promulgated the doctrine that goyim are not just less than human, they are non-human trash — "supernal refuse" — which is a reference to their Kabbalistic status as kelipot who possess "no redeeming qualities whatsoever…"
[During the Renaissance] members of the Roman Catholic hierarchy including many popes, were secretly initiated into Kabbalistic mysticism. The belt of that transmission is chronicled in detail in [my book] The Occult Renaissance Church of Rome.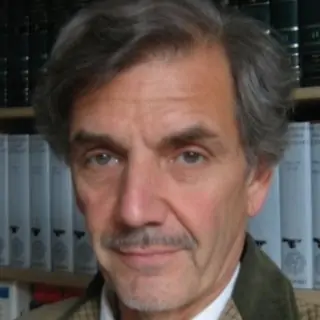 (Left, Michael Hoffman, world's foremost authority on Judaism)
Rabbinic Phariseeism is more than a religion opposed to Jesus for this reason: in its beginnings in the time before Christ, it existed as a creed founded upon esoteric oral teachings that nullify the Bible itself.
Orthodox Judaism is an anti-Biblical religion. Yes, it has a "Moses" and a "Noah" as its patrons and it names other patriarchs too, but these are not the Moses and Noah of the Bible. These are radically falsified figures who bear those names.PharisacJudaism is contemptuous of the Biblical Noah about whom, in the Midrash, it makes scurrilous claims. There is even contempt for Moses. About Isaiah, who said that Israel has filthy lips, the Talmud teaches that Isaiah was justly killed by having his mouth sawed in half for "blaspheming Israel."
In both Left-wing New Age and Right-wing neo-Nazi circles, the heresy of Marcion is alive and well and the Old Testament is execrated. It is equated with the Talmud (most famously on the Right by Douglas Reed in The Controversy of Zion). The problem with that tack is that the Old Testament is absolutely not a book of self-worship of the Jews. It is radically different from the Babylonian Talmud. The Bible is an antidote to self-worship. The Old Testament excoriates Israelites in the strongest possible terms.
MOSES HESS
The bridge between not only Talmudic Judaism and Zionism, but Bolshevism as well, is personified by Moses Hess, who Karl Marx termed, "My Communist rabbi." Hess was not a rabbi in a formal sense, but he was enamored of the Talmud, as well as Communist and Zionist ideology. Hess recognized that what unites all three, their common bond, is Judaic self-worship. The controversies and rivalries arise in the debate over which vehicle is best for the supremacy of the Judaic people over humanity: Judaism, Bolshevism or Zionism? Hess argued that depending on the zeitgeist, any one of the three would prove suitable.
Orthodox Judaism is a religion of situation ethics. There are few beliefs that are not negotiable. What is non-negotiable is the supremacy of the Judaic people and whatever aidsthat supremacy. Nothing else counts.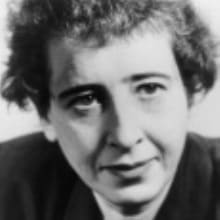 Look at Gershom Scholem, the German-Israeli scholar who helped to bring the Kabbalah into respectability and prominence in the Israeli state. Scholem and Judaic-American intellectual Hannah Arendt, left, the one-time girlfriend of German philosopher Martin Heidegger, had been friends in Paris before World War II. Arendt published a fair-minded book, Eichmann in Jerusalem, which infuriated Scholem. But not because she erred in her facts. He was incensed at her allegedly "heartless, downright malicious tone" regarding the Nazis' mass murders of Judaics, and he cast aspersions on her in the pages of Encounter magazine. Arendt had transgressed, according to Scholem, because she had failed to write in deference to the supreme criterion that must be the idol of every Judaic person: "ahavath Israel" ("love for the Jews"). The truths that Arendt had written were utterly beside the point.
If it turns out that Zionism is the best vehicle in our time for advancing Judaic supremacy, then most of the gedolei (rabbinic elite) of Orthodox Judaism will continue to cooperate with it. In his novel Oliver Twist, Charles Dickens portrayed the Judaic arch-criminal Fagin donning innumerable costumes and disguises. Talmudism, Bolshevism and Zionism are the garments that Judaic megalomania dons and discards as it marches through the corridors of time.
In the Israeli state, the one place on earth where Zionists have nearly complete power, how do the goyim fare? Would you like to be a Palestinian residing in Gaza, or even east Jerusalem for that matter? This is the fate of any subject population in any nation where Zionists or Orthodox rabbis possess something approximating total power.
—
Michael Hoffman's Website is Revisionist History.org