Chemtrails the Big Picture | by Yvonne Nachtigal
The apostle Peter wrote that Satan prowls around like a roaring lion, seeking who he might devour, and Satan is 'roaring' all over the internet today. We are on information overload, with news of an economic collapse, the destruction of America, GMO's, chemtrails, vaccines, population reduction, water fluoridation, CERN, mind control, HAARP, transhumanism, earthquakes, extreme weather events, droughts, JADE HELM, fema camps, persecution…!  The list is literally endless, but can be summed up as; The New World Order. The message is always one of fear; 'This is huge! – This is powerful! – We are powerless!"
"…your adversary the DEVIL prowls about like a roaring lion, seeking whom he may devour…" 1 Peter 5:8
The formidable foe was roaring loud during Peter's day. To admit to being a follower of Christ back then was to put your physical life on the line. Do you think there was fear in Peter's day?
"How Satan roared with persecutions in Peter's days! He roared, and roared, and roared again, till none but stout hearts dared to show themselves valiant for Christ. There were the underground prisons filled with frogs, and serpents, and toads, where breath or fresh air never chased away the noxious smell, and pestilential vapor. There were racks and gallows; there was the sword for beheading, and the stake for burning; there was dragging at the heels of the wild horses; there was smearing over with pitch, and then setting on fire the body still alive to burn in Nero's garden. There were torments which must not be described, the very pictures of which are enough to make one's eyes weep blood as you look upon them! There was nothing for the Christian then but banishment and imprisonment—these were the lowest penalties. "They were stoned, they were sawn in sunder, they wandered about in sheepskins and goatskins, destitute, afflicted, tormented." These were the roaring of the lion in good Peter's day!" – Charles Spurgeon
Are we powerless, as the roaring internet would have us believe?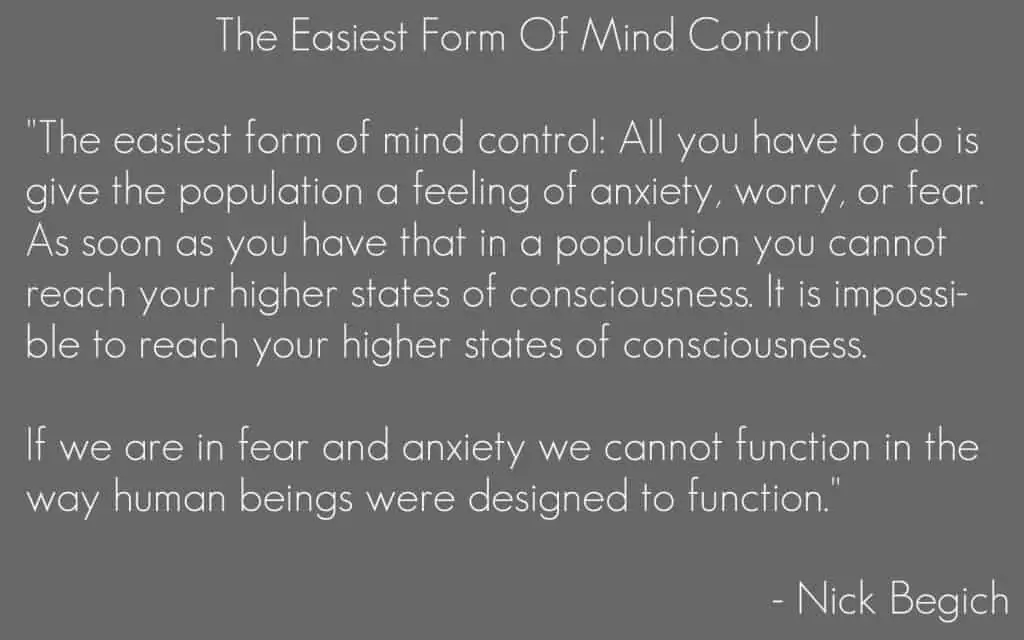 The above quote from HAARP expert, Dr Nick Begich makes it pretty clear that it is the enemy's very specific strategy to instill FEAR in the population. But Paul told us:
 "…resist him, firm in your faith." 1 Peter 5:9
As recorded in the book of Matthew, Jesus said:
"…fear not them which kill the body, but are not able to kill the soul: but rather fear him which is able to destroy both soul and body in hell." Matt 10:28
There's lots of information on how to prepare physically for a time of scarcity. It's probably a good idea to have some food and water tucked away. Hold on to your firearms, if for no other reason, so you can hunt for food. If you can afford to do it, this would be a good time to move out of the city to a place where you can be more self-sustaining, but in reality, most people just don't have that luxury.
If we can't physically prepare for what's coming, what would God have us do?
As Christians, we need to be looking to the Word of God for direction, not living in fear and thinking about to save our own skin. It's never been more important to live with an eternal perspective. Our father is well able to protect His people and to strengthen us through anything that the devil brings against us! We need to get our minds around the fact that our God is GOD ALMIGHTY!
"Are not two sparrows sold for a penny? Yet not one of them will fall to the ground outside your Father's care. And even the very hairs of your head are all numbered. So don't be afraid; you are worth more than many sparrows.." – Matthew 10:29-31
Are we going to suffer? Will we go hungry? Will we be arrested? That's entirely possible. But if you are truly in Christ you can be assured that nothing will be brought into your life that's not fully under His control, and He'll be right there to see you through, providing the strength you need.
"And we know that in all things God works for the good of those who love
him, who have been called according to his purpose. …" Rom 8:28
What does it mean to be called according to His purpose? What are we called to?
Taking up our cross – "If any man will come after me, let him deny himself, and take up his cross daily, and follow me. For whosoever will save his life shall lose it: but whosoever will lose his life for my sake, the same shall save it. For what is a man advantaged, if he gain the whole world, and lose himself, or be cast away?"(Luke 9:23–25).
Suffering – "For even hereunto were ye called: because Christ also suffered for us, leaving us an example, that ye should follow his steps" (1 Pet 2:21).
Sharing the Gospel – "Go ye therefore, and make disciples of all the nations, baptizing them into the name of the Father and of the Son and of the Holy Spirit:" Matthew 28:19
The Bible doesn't tell us it's going to be easy living in the world. But He who calls us is Faithful! (1 Thess 5:24)
"For you died, and your life is now hidden with Christ in God." Colossians 3:3
Paul tells us that our life is no longer found in the flesh, but in the Spirit.
"Those who live according to the flesh have their minds set on what the flesh desires; but those who live in accordance with the Spirit have their minds set on what the Spirit desires. The mind governed by the flesh is death, but the mind governed by the Spirit is life and peace. The mind governed by the flesh is hostile to God; it does not submit to God's law, nor can it do so. Those who are in the realm of the flesh cannot please God.

You, however, are not in the realm of the flesh but are in the realm of the Spirit, if indeed the Spirit of God lives in you. And if anyone does not have the Spirit of Christ, they do not belong to Christ. But if Christ is in you, then even though your body is subject to death because of sin, the Spirit gives life, because of righteousness. And if the Spirit of him who raised Jesus from the dead is living in you, he who raised Christ from the dead will also give life to your mortal bodies because ofhis Spirit who lives in you.

Therefore, brothers and sisters, we have an obligation—but it is not to the flesh, to live according to it. For if you live according to the flesh, you will die; but if by the Spirit you put to death the misdeeds of the body, you will live.

For those who are led by the Spirit of God are the children of God.The Spirit you received does not make you slaves, so that you live in fear again; rather, the Spirit you received brought about your adoption to sonship. And by him we cry, "Abba,Father." The Spirit himself testifies with our spirit that we are God's children. Now if we are children, then we are heirs—heirs of God and co-heirs with Christ, if indeed we share in his sufferings in order that we may also share in his glory." Romans 8:2-17
God's kingdom is spiritual, not carnal. We have been bought with a price and we belong to Him, not to ourselves. The life He has given us is so much greater than anything we can imagine and His power immeasurably greater than that of he who rules this world!
What exactly would God have us do? Well, he's told us. We've read it all our Christian lives.
 "Therefore I tell you, do not worry about your life, what you will eat or drink; or about your body, what you will wear. Is not life more than food, and the body more than clothes?  Look at the birds of the air; they do not sow or reap or store away in barns, and yet your heavenly Father feeds them. Are you not much more valuable than they?  Can any one of you by worrying add a single hour to your life?

 "And why do you worry about clothes? See how the flowers of the field grow. They do not labor or spin.  Yet I tell you that not even Solomon in all his splendor was dressed like one of these.  If that is how God clothes the grass of the field, which is here today and tomorrow is thrown into the fire, will he not much more clothe you—you of little faith? 

So do not worry, saying, 'What shall we eat?' or 'What shall we drink?' or 'What shall we wear?'  For the pagans run after all these things, and your heavenly Father knows that you need them.  But seek first his kingdom and his righteousness, and all these things will be given to you as well.  Therefore do not worry about tomorrow, for tomorrow will worry about itself. Each day has enough trouble of its own.
We've sung about it since we were children:
"Seek ye first the kingdom of God and his righteousness, and all these things will be added unto you; Allelu – Alleluia…"
Seeking His kingdom, knowing the truth, walking in righteousness. (Righteousness before God; putting off the flesh and putting on Christ – not putting on a good face in front of your friends at church). That's what He has called us to. And faith to live how He has called us to live needs to be our focus, not fear. Not saving our own skin.
Where do we go?  — Where does God want us to go?
What should we do?  — What does God want us to do?
Be wise:
"Behold, I send you forth as sheep in the midst of wolves: be ye therefore wise as serpents, and harmless as doves." Matthew 10:16
As those who have the TRUTH in the Word of God, we should be more aware than anyone else about the schemes of the evil one (2 Cor 2:1).  But we have the complete story, including the HOPE that is in our savior which is astoundingly greater than any force in this world!
Now more than ever, we need to be living with an eternal perspective, by His Spirit; walking in love, truth and personal righteousness as He commanded us to. When we do, we won't find ourselves get caught up in the web of fear the enemy is spinning. That's not to say that we shouldn't be active, shedding light, standing for the truth, exercising our rights while we still have them here, only that we need to be doing these things with a higher calling and perspective.
"Therefore, since we have so great a cloud of witnesses surrounding us, let us also lay aside every encumbrance and the sin which so easily entangles us, and let us run with endurance the race that is set before us, fixing our eyes on Jesus, the author and perfecter of faith, who for the joy set before Him endured the cross, despising the shame, and has sat down at the right hand of the throne of God." – Hebrews 12:2-3 

"Abide in Me, and I in you. As the branch cannot bear fruit of itself unless it abides in the vine, so neither can you unless you abide in Me." John 15:4 
How do we abide in Him?
Repent – "From that time Jesus began to preach, and to say, Repent: for the kingdom of heaven is at hand" (Matthew 4:17).
Be Born Again – "Jesus answered, Verily, verily, I say unto thee, Except a man be born of water and of the Spirit, he cannot enter into the kingdom of God. That which is born of the flesh is flesh; and that which is born of the Spirit is spirit. Marvel not that I said unto thee, Ye must be born again" (John 3:5–7).
Receive God's Power – "And, behold, I send the promise of my Father upon you: but tarry ye in the city of Jerusalem, until ye be endued with power from on high" (Luke 24:49).
Love – "A new commandment I give unto you, That ye love one another; as I have loved you, that ye also love one another. By this shall all men know that ye are my disciples, if ye have love one to another." John 13:34-35
Forgive – "Then came Peter to him, and said, Lord, how oft shall my brother sin against me, and I forgive him? till seven times? Jesus saith unto him, I say not unto thee, Until seven times: but, Until seventy times seven" (Matthew 18:21–22).
Don't be selfish– "If any man will come after me, let him deny himself, and take up his cross daily, and follow me. For whosoever will save his life shall lose it: but whosoever will lose his life for my sake, the same shall save it. For what is a man advantaged, if he gain the whole world, and lose himself, or be cast away?"(Luke 9:23–25).
Don't Judge – "Judge not, that ye be not judged. For with what judgment ye judge, ye shall be judged: and with what measure ye mete, it shall be measured to you again. And why beholdest thou the mote that is in thy brother's eye, but considerest not the beam that is in thine own eye?" (Matthew 7:1–3).
Watch and Pray – "Watch and pray, that ye enter not into temptation: the spirit indeed is willing, but the flesh is weak" (Matthew 26:41).
Share the Good News – "Go ye therefore, and teach all nations . . . teaching them to observe all things whatsoever I have commanded you: and, lo, I am with you always, even unto the end of the world. Amen" (Matthew 28:19–20).