As I posted in the articles "An Unholy Alliance" part 1 & 2 , many of our religious leaders are tied, monetarily to the Rev. Sun Myung Moon. It is important to know just who the Rev. Moon is in order to grasp the significance of these ties. If you read the entirety of the article previewed below, you'll see that these and many other Church leaders are complicit in promoting Ecumenism and bringing about the satanic One World Religion. Sadly, these include many popular "end times prophecy" teachers. 
The King of America
Inside the secret world of Washington Times publisher Rev. Sun Myung Moon; he arranged for himself to be coronated the "King of Peace" on Capitol Hill, with help from John McCain aide Charlie Black and members of Congress.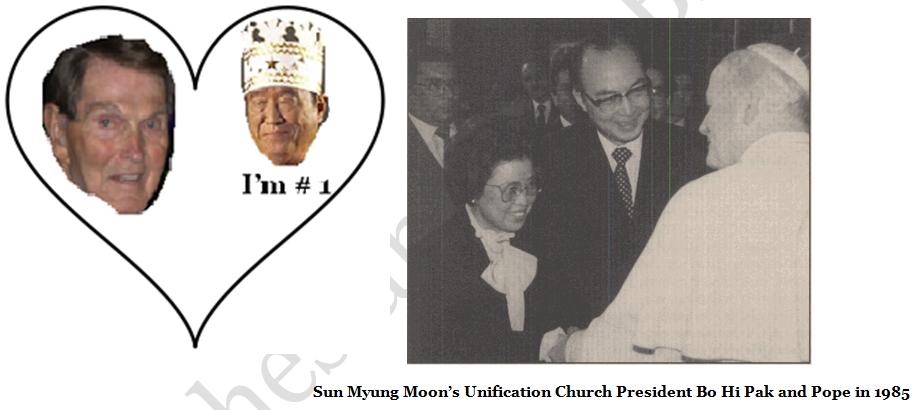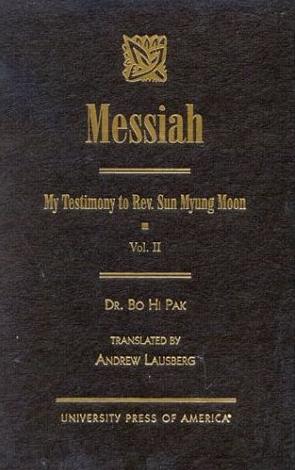 http://en.wikipedia.org/wiki/Sun_Myung_Moon: "Moon has said that he is the Messiah and the Second Coming of Christ and is fulfilling Jesus' unfinished mission"

All these men above are related with each other through the ECUMENICAL Council for National Policy (CNP) that minds earthly things among other things. Read about the CNP HERE.
The following is an excerpt on Tim LaHaye from Bo Hi Pak who was President of the Unification Church (The Moonies) from 1977 to 1991 –
"One day, Rev. Dr. Tim LaHaye came to visit. He was the minister who had previously suggested that "we all spend one week in prison with Reverend Moon." The moment he took Reverend Moon's hands, Dr. LaHaye was overcome with tears and couldn't even speak. When he finally could speak, he said, "Reverend Moon, please forgive the American government. America has committed a great sin against you. I really want to apologize to you on behalf of the government and the American people. Please forgive America. Not all American people are like that." Then he wept again.
Reverend Moon embraced him and then said, "There is nothing for me to forgive. Since I have been here, I've come to love America even more. I am only thankful. After coming here, I have made up my mind to give my entire life for the sake of America. I've come to realize even more just how precious America is." Dr. LaHaye was visibly moved. "Reverend Moon," he said, "you are truly living the love of Jesus Christ. Your suffering will cleanse the sins of America. I am grateful to God for sending you here, to the United States."
Chuck Missler's relationship with Tim LaHaye
You could say that Chuck Missler's relationship with Tim LaHaye is tied to the Council for National Policy (CNP). That's a real cornucopia of darkness when one really researches it. Much has been written on this group. (read more at… Contending for Truth).