In this Guardian Article, ancient history lecturer at Oxford Josephine Quinn, concludes that ancient civilizations weren't at all like us. In light of recently passed abortion bills in the US, I beg to differ.
Graves holding tiny cremated bones confirm accounts dismissed as Greek or Roman black propaganda, study shows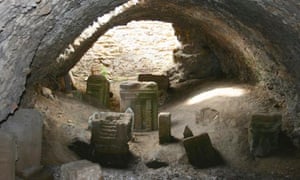 Just as ancient Greek and Roman propagandists insisted, the Carthaginians did kill their own infant children, burying them with sacrificed animals and ritual inscriptions in special cemeteries to give thanks for favours from the gods, according to a new study.
"This is something dismissed as black propaganda because in modern times people just didn't want to believe it," said Josephine Quinn, a lecturer in ancient history at Oxford, who is behind the study, with international colleagues, of one of the most bitterly debated questions in classical archaeology.
"But when you pull together all the evidence – archaeological, epigraphic and literary – it is overwhelming and, we believe, conclusive: they did kill their children, and on the evidence of the inscriptions, not just as an offering for future favours but fulfilling a promise that had already been made.
"This was not a common event, and it must have been among an elite because cremation was very expensive, and so was the ritual of burial. It may even have been seen as a philanthropic act for the good of the whole community."
Argument has raged on the subject since cemeteries known as tophets – after the biblical account of a place of sacrifice – were excavated in the early 20th century on the outskirts of Carthage in modern Tunisia, and then at other Carthaginian sites in Sicily and Sardinia. The graves held tiny cremated bones carefully packed into urns, buried under tombstones giving thanks to the gods. One has a carving which has been interpreted as a priest carrying the body of a small child. Some archaeologists and historians saw the finds as proving ancient accounts of child sacrifice; others insisted they showed tender respect for cherished children who died before or soon after birth.
Quinn and her colleagues, a group of Punic archaeologists and historians from Italy and the Netherlands, who publish their findings in the journal Antiquity – where the argument has been rumbling on for several years – completely reject the latter theory.
"The inscriptions are unequivocal: time and again we find the explanation that the gods 'heard my voice and blessed me'. It cannot be that so many children conveniently happened to die at just the right time to become an offering – and in any case a poorly or dead child would make a pretty feeble offering if you're already worried about the gods rejecting it."
"Then there is the fact that the animals from the sites, which were beyond question sacrificial offerings, are buried in exactly the same way, sometimes in the same urns with the bones of the children."
Although hundreds of remains were found, there were far too few to represent all the stillbirth and infant deaths of Carthage. According to Quinn, there were perhaps 25 such burials a year, for a city of perhaps 500,000 people.
The Roman historian Diodorus and other ancient historians gave graphic accounts of Carthaginian child sacrifice: "There was in their city a bronze image of Cronus, extending its hands, palms up and sloping towards the ground, so that each of the children when placed thereon rolled down and fell into a sort of gaping pit filled with fire."
Diodorus even said that some citizens who bought children from poor people and reared them specially for sacrifice believed misfortunes had resulted because they had not sacrificed their own offspring.
The argument has been passionate for years, with scientists often reaching opposed conclusions from the same bone fragments: four years ago a group of scientists published a paper saying the cremated remains did not indicate infant sacrifice.
Now in the same issue as Quinn's research, Antiquity is publishing a new paper on the same bones, insisting that the earlier study got the science of burnt infant bones wrong, and therefore greatly overestimated the number who died before birth rather than being murdered in infancy.
Quinn said many of her academic colleagues were appalled by her conclusions.
"The feeling that some ultimate taboo is being broken is very strong. It was striking how often colleagues, when they asked what I was working on, reacted in horror and said, 'Oh no, that's simply not possible, you must have got it wrong.'"
"We like to think that we're quite close to the ancient world, that they were really just like us – the truth is, I'm afraid, that they really weren't."
---
The city of Carthage in North Africa contains evidence of child sacrifice related to the worship of Ba'al Hammon, a god imported from Phoenicia. Many Roman writers refer to this barbaric act in Carthage.
The Bible contains child sacrifice practiced in the name of Molech, a god of the Ammonites. Molech worship was practiced by the Ammonites and Canaanites. Images of Molech were made of bronze, and their outstretched arms were heated red-hot. Living children were then placed into the idol's hands and died there or were rolled into a fire pit below. Some sources indicate a child might also be "passed through the fire" prior to the actual sacrifice in order to purify or baptize the child. Molech worship occurred in the Hinnom Valley near Jerusalem. Because of this, the valley became associated with the idea of Tophet, or hell (Isaiah 30:33; Jeremiah 19:12; Mark 9:45).
God prohibited Israel from child sacrifice. Leviticus 20:2-5 states,
"Say to the Israelites: 'Any Israelite or any foreigner residing in Israel who sacrifices any of his children to Molek is to be put to death. The members of the community are to stone him. I myself will set my face against him and will cut him off from his people; for by sacrificing his children to Molek, he has defiled my sanctuary and profaned my holy name. If the members of the community close their eyes when that man sacrifices one of his children to Molek and if they fail to put him to death, I myself will set my face against him and his family and will cut them off from their people together with all who follow him in prostituting themselves to Molek.'" King Solomon became involved in this horrendous practice, as recorded in 1 Kings 11:4-11,
"As Solomon grew old, his wives turned his heart after other gods, and his heart was not fully devoted to the LORD his God, as the heart of David his father had been. He followed Ashtoreth the goddess of the Sidonians, and Molek the detestable god of the Ammonites. So Solomon did evil in the eyes of the LORD. . . . On a hill east of Jerusalem, Solomon built a high place for Chemosh the detestable god of Moab, and for Molek the detestable god of the Ammonites. . . . The LORD became angry with Solomon because his heart had turned away from the LORD, the God of Israel, who had appeared to him twice. Although he had forbidden Solomon to follow other gods, Solomon did not keep the LORD's command." 
Later, the evil king Manassah offered his own son as a sacrifice (2 Kings 21:6), as did King Ahaz (2 Chronicles 28:1-4). The people of Judah participated in this crime against their own sons—a sin so "detestable" that God said it had never even crossed His mind (Jeremiah 32:35). Child sacrifice was one reason for the Babylonian captivity (verse 36).
Today, child sacrifice is practiced throughout the world. There has been a resurgence of child sacrifice in Uganda. Witch doctors have been implicated in the mutilation and death of children who were killed in an effort to bring good fortune and wealth to those willing to pay for it. … Unprecedented numbers of children have been "sacrificed" at the hands of abortionists for the sake of convenience, immorality, or pride. Hundreds of thousands of babies have been killed so that their parents can maintain a certain lifestyle. God hates "hands that shed innocent blood" (Proverbs 6:17), and we can be sure that God will judge this horrendous sin. – Got Questions