(Amazon made a lame excuse to ban this book)
Sandy Hook was a FEMA drill designed to promote the NWO agenda. (Gun control, enslavement)
How long is the public going to tolerate treason by their elected officials and media?
"Among its revelations is the discovery of the 21-page FEMA manual for the drill, with a rehearsal taking place on 13 December 2012, going LIVE on the 14th."
This book is available for download here.
from Nov. 30, 2015
by James Fetzer
(henrymakow.com)
What was widely reported as a school massacre in which 20 children and six adults were murdered by a young man named "Adam Lanza" was a FEMA drill to promote gun control, where no one died, as even officials in the Department of Education have acknowledged to a LA school safety expert.
Those are the stunning findings of a dozen experts who have been investigating the event for the past three years, whose research appears in a new book NOBODY DIED AT SANDY HOOK, with massive documentation and  extensive proof.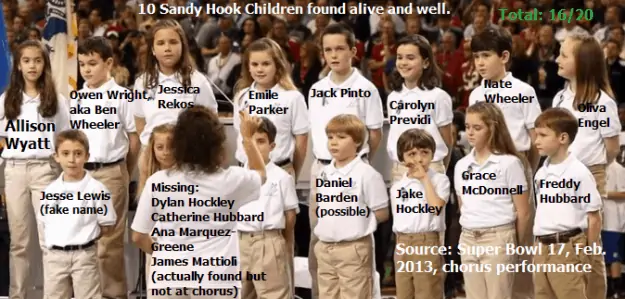 The contributors include six (former or current) professors and six other experts, including an Australian who received a leak of an enormous set of photographs documenting the hoax. They leave no room to doubt that this was an elaborate hoax to promote a political agenda.
One of the chapters presents a series of 50 photographs that record the furnishing of the Lanza home to serve as a prop, including the bed in which Adam's mother was allegedly killed, which has (what appears to be) a smear of raspberry jam (not blood) and where, in their haste, a moving pad was left under one of its legs.
Another includes a sequence of 50 more photos that record the refurbishing of the school–which was closed by 2008 because it was loaded with asbestos and other bio-hazards–including the moving vans, classroom name-plates with the mover's name tag still on them, and an early morning sequence of preparing the scene.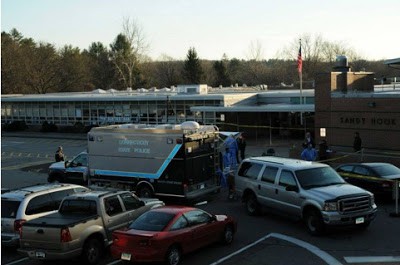 The most astonishing shows the SWAT team already present, where just above the vehicle, windows of Classroom 10 (later shown to be shot out) are undamaged, the flag is at full mast, crime scene tape is in place, and Dr. Warne Carver, Medical Examiner, with arms crossed, awaits the arrival of his portable mortuary tent.
In other photos, you can see the perps drilling holes in one of the windows of the classroom to simulate bullet holes, which are at exact 90* angles and perfectly parallel. Another from inside the classroom shows the aluminum splayed out into the classroom, opposite what would have been the case had they been real.
The editor has published a video introduction to the book on YouTube, including these photographs, under the title,"NOBODY DIED AT SANDY HOOK with Jim Fetzer". Among its revelations is the discovery of the 21-page FEMA manual for the drill, with a rehearsal taking place on 13 December 2012, going LIVE on the 14th.
The manual appears as an appendix to the book and explains why there was a sign, "Everyone must check in!", bottled water and pizza cartons, Port-a-Potties on site, many wearing name tags on lanyards and parents bringing children to the scene, which makes sense for a rehearsal but not for an actual child-shooting massacre.
Anomalies that have bothered many students–no surge of EMTs into the building, no string of ambulances to rush bodies to hospitals, no Med-Evac helicopters, no evacuation of 469 students, no bodies on the triage tarps–are now explicable. None of that happened because no children had been shot. Cars in the lot were even wrongly pointed facing the school, because it was easier to load them for the drill.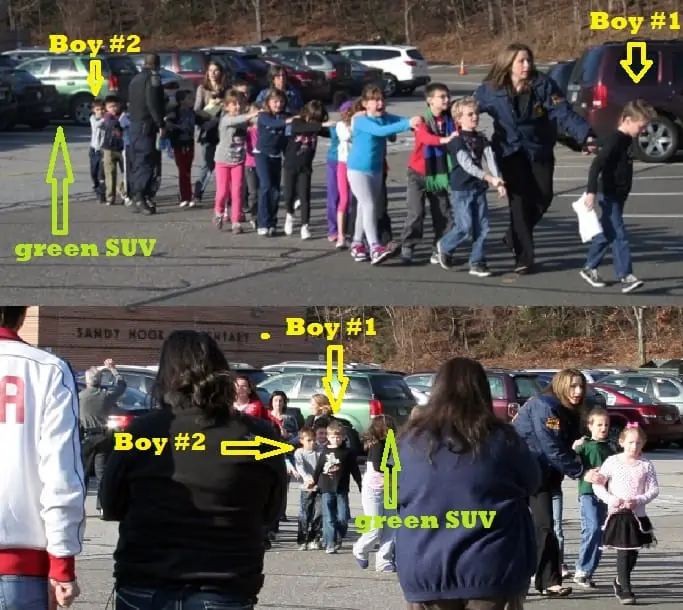 The "iconic" photograph that shows a string of 15 students being led to safety by a policewoman, which was sent around the world at the time, turns out to have been staged. There is a second photograph showing a group of parents casually looking on with their arms crossed as the officer rearranges the kids to get "a better shot".
Newtown Bee photographer Shannon Hicks has admitted taking both photographs, but has yet to explain how parents could have been present for photos taken during an emergency evacuation. Someone would have had to take time out from coping with the catastrophe to call them to come down to the massacre, which is absurd.
This elaborate hoax appears to have been planned long in advance, where Attorney General Eric Holder met with Connecticut Governor Dan Malloy on 27 November 2012 to discuss the administration's programs for gun control. And, on 16 January 2013, Barack Obama signed 23 Executive Orders to restrict the right to bear arms.
————-James Fetzer has published 31 books, including And I Suppose we Didn't go to the moon, either? (2015), The Place of Probability in Science (2010) and The Evolution of Intelligence(2005).