CO UPDATE – 4/6/2018
Tragically, the body of CDC Dr. Timothy Cunningham, 35 was found Tuesday in the Chattahoochee River in northwest Atlanta. (FOX61)
Fulton County Chief Medical Examiner Dr. Jan Gorniak said on Thursday that there were no signs of foul play and that Cunningham's preliminary cause of death is believed to be drowning. His actual manner of death has not yet been determined.

"We may never be able to tell you how he got into the river," Major Michael O'Connor of the Atlanta Police told reporter during a press conference.
Offering no (reasonable) answers about how Cunningham died, the media is condemning the Your News Wire story containing his (alleged) warning about the flu vaccine as an "internet rumor."
CNN "Cunningham's disappearance prompted a high-profile police search and a $10,000 reward for clues. As days went on, internet rumors circulated that the case was tied to his alleged role as a flu vaccine whistle-blower. The rumors were debunked by police and his family."
According to CNN, Cunningham's father said the All News Wire story was "A lie."
If the red flags stopped there, it would be one thing, but they don't.
Initially, the story was that Cunningham had been denied a promotion.
This turned out to be false. The narrative changed on March 12th to say that Cunningham did not leave work upset over being denied a promotion, but left work because he wasn't feeling well.
""There has been news coverage that Commander Cunningham recently did not receive a promotion," the CDC said in a statement Monday. "As many of his colleagues in the USPHS have pointed out, this information is incorrect." (WP)
Why did the CDC allow the false story to circulate for a month?
If police were in constant communication with the CDC, as police repored, who were they talking to at the CDC to get this information so wrong and in such detail?
The CDC seems to have a record for concealing truth and missing details.
Other strange things about this story.
According to the official narrative, it is a more reasonable to think that Timothy Cunningham ScD,
Left his home locked with his keys inside
Crawled out his own window
Left his beloved dog locked in the house
Somehow got to the Chattahoochee River without his car
Tumbled in and drowned
~  than that he was the victim of foul play as result of a whistleblower statement  about flu vaccines to All News Wire.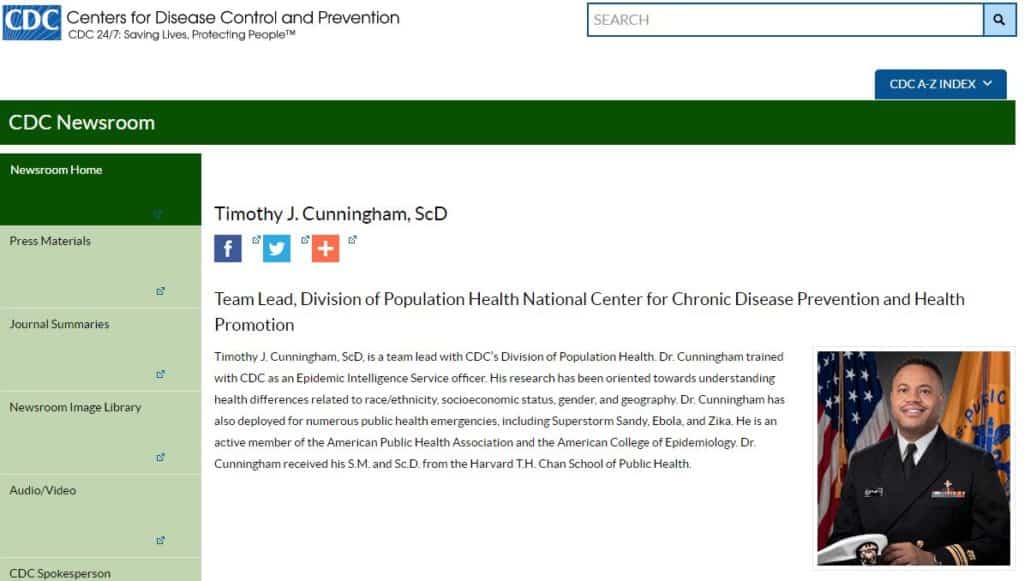 ---
---
The CDC Doctor who controversially warned this year's "disastrous" flu shot may be responsible for the deadly flu epidemic sweeping the country, has been reported missing and is feared dead.
In January, Dr. Cunningham shared his opinion that this year's flu shot was behind the deadly outbreak of the flu, while warning that if his name was attached to the widely-circulated quotes, he would lose his job – or suffer an even worse fate.
Understanding the dangers involved in speaking out about vaccines in the current climate, we granted him anonymity in the article. However Dr. Cunningham told us we should go public should anything happen to him.
Dr. Cunningham called in sick in February 12th at 7:00 am and has not been seen or heard from since.
Ryan Kruger from 11Alive spoke to Dr. Cunningham's family Saturday as they posted signs around his neighborhood."All of this is an effort to find him and bring him back home," Dr. Cunningham's father told 11Alive. Family members confirmed there is no chance the CDC doctor would choose to disappear from his life without telling his family and friends.
"He's a scientist, so he has a very methodical mindset and an outgoing personality," a family member said.
Dr. Cunningham was last seen by colleagues Monday the at the CDC office in Chamblee, Georgia. Colleagues said he was feeling sick, so he left work early and said he was going to finish his work from home. That was the last time anyone saw him and he hasn't been heard from since that day.
Dr. Cunningham was an expert on contagious epidemics, having been deployed by the CDC to work on the Ebola and Zika crises in previous years. He knows a suspicious outbreak when he sees one, and this year's flu epidemic raised serious red flag's for the CDC doctor.
"Some of the patients I've administered the flu shot to this year have died," the doctor said in January, adding "I don't care who you are, this scares the crap out of me."
"We have seen people dying across the country of the flu, and one thing nearly all of them have in common is they got the flu shot," he said.
Dr. Cunningham's experience of people dying of the flu after receiving the flu shot are sadly not uncommon, however he remains one of a select few doctors who have spoken out and raised the issue in the public domain.
Another doctor who spoke out about the flu shot, Dr. Daniel Neides, the Chief Operating Officer of the Cleveland Clinic Wellness Institute, was fired after sharing his personal experiences with the flu shot and writing an article questioning the legitimacy of the CDC's advice on vaccines.
Big Pharma's dollars have effectively purchased the silence of the CDC, and turned mainstream media into a branch of their PR department. You can no longer believe anything they say about pharmaceuticals, especially vaccines.
For their part, the CDC does not allow medical practitioners to speak out regarding their experience with vaccines. If they do not toe the company line, they lose their job, or suffer a worse fate, as the ongoing purge of holistic doctors proves.
Has Dr. Cunningham suffered a similar fate as the scores of dead holistic doctors for daring to speak his mind and warn citizens about possible effects of the flu shot?