In case you haven't heard about it, a new National Terrorism Advisory System (NTAS) Bulletin was released by the Department of Homeland Security (DHS) Friday, August 13, 2021 titled, "Summary of Terrorism Threat to the U.S. Homeland." The bulletin proposes that there is a growing domestic terrorist threat which includes individuals and groups "engaged in grievance-based violence, and those inspired or motivated by foreign terrorists and other malign foreign influences." International headlines implied that a violent event could erupt sometime around the anniversary of 9/11.
The report claims:
"These actors are increasingly exploiting online forums to influence and spread violent extremist narratives and promote violent activity. Such threats are also exacerbated by impacts of the ongoing global pandemic, including grievances over public health safety measures and perceived government restrictions."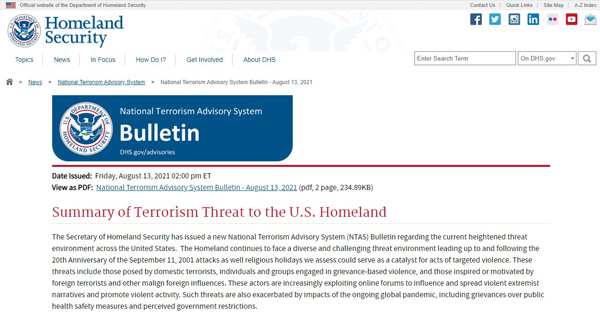 The document references conspiracy theories related to election fraud, concerns over the origin of the COVID-19, and the [lack of] effectiveness of vaccines as key drivers of the alleged domestic terrorist threat.
The bulletin warns:
"Ideologically motivated violent extremists fueled by personal grievances and extremist ideological beliefs continue to derive inspiration and obtain operational guidance through the consumption of information shared in certain online communities. This includes information regarding the use of improvised explosive devices and small arms."
In an article published by Business Insider, titled, "Violent domestic extremist groups may launch attacks over new COVID-19 restrictions, the Department of Homeland Security warned," the following three claims are made about the Homeland Security report:
Domestic extremist groups could use new COVID-19 restrictions as an excuse to launch violent attacks, according to the Department of Homeland Security.
Pandemic-related social stressors drove several plots by domestic extremists and may have a hand in even more violence this year, the DHS reported.
Earlier this year, intelligence agencies warned that politically motivated extremists would be the biggest national threat.
The Department of Homeland Security intends to respond to the stated domestic terror threat in a number of ways:
DHS will continue to identify and evaluate calls for violence, including online activity associated with the spread of disinformation, conspiracy theories, and false narratives, by known or suspected threat actors and provide updated information, as necessary.
DHS continues to encourage the public to maintain awareness of the evolving threat environment and report suspicious activity.
DHS is coordinating with state and local law enforcement and public safety partners to maintain situational awareness of potential violence in their jurisdictions and maintain open lines of communication with federal partners.
DHS is also advancing authoritative sources of information to debunk and, when possible, preempt false narratives and intentional disinformation, and providing educational materials to promote resilience to the risks associated with interacting with and spreading disinformation, conspiracy theories and false narratives.
More broadly, DHS remains committed to identifying and preventing terrorism and targeted violence while protecting the privacy, civil rights, and civil liberties of all persons.
---
Take heart – He has overcome the world! (Jn 16:33)
Jesus answered him, "You would have no authority over me at all unless it had been given you from above." (Jn 19:11)
Peace I leave with you; my peace I give you. I do not give to you as the world gives. Do not let your hearts be troubled and do not be afraid. (Jn 14:21)
Let your conversation be without covetousness; and be content with such things as ye have: for he hath said, I will never leave thee, nor forsake thee. (Heb 13:5)