Allison Page Walters (FB)
The blasphemy of the Golden Calf knows NO BOUNDS. Keep worshipping your Idol god Churchianity, keep lifting up your Cyrus, your Golden Calf, your Serpent who whispers the sweetness you WANT to hear in your itching ears. If you're STILL so BLIND you can't SEE who this man SERVES then God help you & have Mercy on you…..He is MOCKING the very God, Jesus Christ, who you CLAIM to love & serve.
Fright House: Trump shakes a snake staff at the 'fake news media' and blames it for 'division and hatred' while handing out Halloween candy with Melania.
'Do you know what I'm doing,' he asked the two little girls, who were dressed in Egyptian style costumes as the first lady chuckled at his antics.  src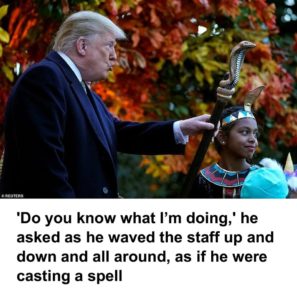 Numbers 21
1 And when king Arad the Canaanite, which dwelt in the south, heard tell that Israel came by the way of the spies; then he fought against Israel, and took some of them prisoners.
2 And Israel vowed a vow unto the Lord, and said, If thou wilt indeed deliver this people into my hand, then I will utterly destroy their cities.
3 And the Lord hearkened to the voice of Israel, and delivered up the Canaanites; and they utterly destroyed them and their cities: and he called the name of the place Hormah.
4 And they journeyed from mount Hor by the way of the Red sea, to compass the land of Edom: and the soul of the people was much discouraged because of the way.
5 And the people spake against God, and against Moses, Wherefore have ye brought us up out of Egypt to die in the wilderness? for there is no bread, neither is there any water; and our soul loatheth this light bread.
6 And the Lord sent fiery serpents among the people, and they bit the people; and much people of Israel died.
7 Therefore the people came to Moses, and said, We have sinned, for we have spoken against the Lord, and against thee; pray unto the Lord, that he take away the serpents from us. And Moses prayed for the people.
8 And the Lord said unto Moses, Make thee a fiery serpent, and set it upon a pole: and it shall come to pass, that every one that is bitten, when he looketh upon it, shall live.
9 And Moses made a serpent of brass, and put it upon a pole, and it came to pass, that if a serpent had bitten any man, when he beheld the serpent of brass, he lived.
John 3
1 There was a man of the Pharisees, named Nicodemus, a ruler of the Jews:
2 The same came to Jesus by night, and said unto him, Rabbi, we know that thou art a teacher come from God: for no man can do these miracles that thou doest, except God be with him.
3 Jesus answered and said unto him, Verily, verily, I say unto thee, Except a man be born again, he cannot see the kingdom of God.
4 Nicodemus saith unto him, How can a man be born when he is old? can he enter the second time into his mother's womb, and be born?
5 Jesus answered, Verily, verily, I say unto thee, Except a man be born of water and of the Spirit, he cannot enter into the kingdom of God.
6 That which is born of the flesh is flesh; and that which is born of the Spirit is spirit.
7 Marvel not that I said unto thee, Ye must be born again.
8 The wind bloweth where it listeth, and thou hearest the sound thereof, but canst not tell whence it cometh, and whither it goeth: so is every one that is born of the Spirit.
9 Nicodemus answered and said unto him, How can these things be?
10 Jesus answered and said unto him, Art thou a master of Israel, and knowest not these things?
11 Verily, verily, I say unto thee, We speak that we do know, and testify that we have seen; and ye receive not our witness.
12 If I have told you earthly things, and ye believe not, how shall ye believe, if I tell you of heavenly things?
13 And no man hath ascended up to heaven, but he that came down from heaven, even the Son of man which is in heaven.
14 And as Moses lifted up the serpent in the wilderness, even so must the Son of man be lifted up:
15 That whosoever believeth in him should not perish, but have eternal life.
https://www.dailymail.co.uk/…/Trump-waves-serpent-staff-Mel…