Dr. Eowyn
FellowshipoftheMinds
(April 28, 2018)
Any time someone says J e w s control the news media, he/she immediately is accused of being anti-Semitic, Nazi racists.
But did you know that J e w s openly admit that among themselves?
On July 1, 2012, The Times of Israel published an essay by Huffington Post blogger Elad Nehorai titled, "J e w s DO Control the Media".
Intended to be read by J e w s, soon after the article began to receive the scrutiny of readers outside of its intended audience, Times of Israel replaced the author's name with the alias "Manny Friedman,"perhaps because of Nehorai's connection to the Chabad Lubavitch— a messianic, Jewish supremacist (J e w s are an extension of God whom Gentiles are destined to serve), Orthodox Hasidic movement with a global reach. Some say the sect means to trigger a Third World War to bring on doomsday and the resultant reign of the Jewish people. President Trump's son-in-law Jared Kushner and daughter Ivanka (who converted to Judaism) are members.
Nehorai's biographical profile on the Huffington Post says:
Elad Nehorai is a writer living in Crown Heights, Brooklyn. Five years ago, he became a religious Jew in the Chabad Hassidic community and has since written about his experience extensively, most recently in his blog Pop Chassid. You can find him on Twitter as @PopChassid and Facebook.
Here's a screenshot of the original article, with Elad Nehorai identified as the author (click image to enlarge):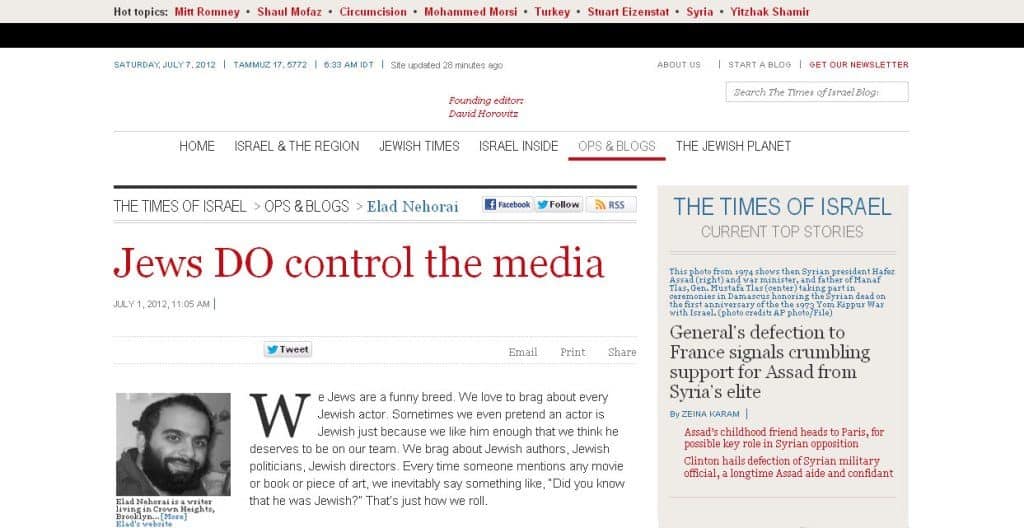 Next, Times of Israel took down the essay and even removed it from its archives, which you can see for yourself here.
By then, however, the essay had been copied, pasted and re-published by bloggers, as well as preserved on the Internet Archive. (Sources: Under The Radar Media; What Really Happened)
Below is the article in its entirety.
†
Manny Friedman • Times of Israel • July 1, 2012
This article was written under an assumed name.
We J e w s are a funny breed. We love to brag about every Jewish actor. Sometimes we even pretend an actor is Jewish just because we like him enough that we think he deserves to be on our team. We brag about Jewish authors, Jewish politicians, Jewish directors. Every time someone mentions any movie or book or piece of art, we inevitably say something like, "Did you know that he was Jewish?" That's just how we roll.
We're a driven group, and not just in regards to the art world. We have, for example, AIPAC, which  was essentially constructed just to drive agenda in Washington DC. And it succeeds admirably. And we brag about it. Again, it's just what we do.
But the funny part is when any anti-Semite or anti-Israel person starts to spout stuff like, "The J e w s control the media!" and "The Jews control Washington!"
Suddenly we're up in arms. We create huge campaigns to take these people down. We do what we can to put them out of work.We publish articles. We've created entire organizations that exist just to tell everyone that the Jews don't control nothin'. No, we don't control the media, we don't have any more sway in DC than anyone else. No, no, no, we swear: We're just like everybody else!
Does anyone else (who's not a bigot) see the irony of this?
Let's be honest with ourselves, here, fellow J e w s. We do control the media. We've got so many dudes up in the executive offices in all the big movie production companies it's almost obscene. Just about every movie or TV show, whether it be "Tropic Thunder" or "Curb Your Enthusiasm," is rife with actors, directors, and writers who are Jewish. Did you know that all eight major film studios are run by Jews?
But that's not all. We also control the ads that go on those TV shows.