Mac Slavo
SHTFPlan.com
One of the purported successes of Michelle Obama's tenure as First Lady of the United States has been to help Americans get fit and eat right.
She's launched a wide array of initiatives targeting Americans receiving government nutritional benefits, as well as school lunch programs across the nation. Nowhere have the First Lady's efforts been more visible than in the cafeteria's of America's schools.
Within days of Obama's new USDA regulations taking hold parents and schoolchildren launched complaints surrounding the rationing of meals, a move that left kids hungry and school districts frustrated with all of the additional paperwork and program expenses. The USDA subsequently upped the rations to assuage frustration.
But according to America's kids Michelle Obama has been "out to lunch" when it comes tosatisfying hunger. It's so bad, in fact, that black markets for food have popped up in schools and kids are taking to their social media pages to share their outrage.
Do you want to see what Michelle Obama considers eating right? Check out these pictures and comments – sourced directly from government run cafeterias around the country.
As you see what passes for health food these days keep in mind that school's are increasingly restricting children from bringing their own lunches from home, often citing nutritional requirements as the reason.
An appetizing ham and cheese tortilla wrap:
Chili cheese dog with a side of veggies: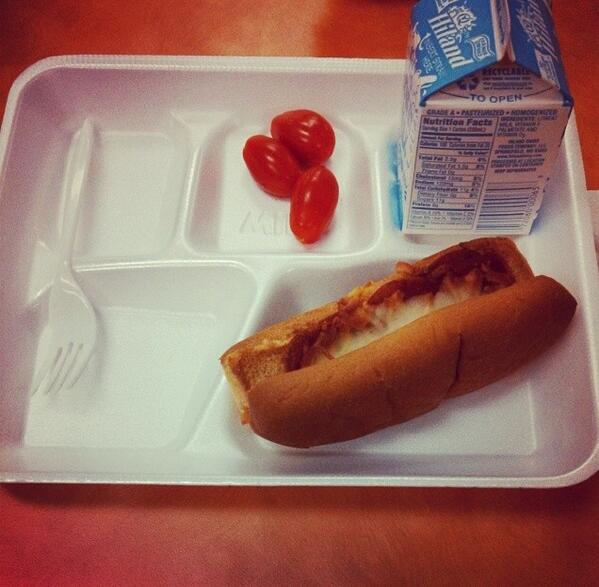 Can I get another scoop of brown with a sprinkle of yellow? Oh, and don't forget my biscuit!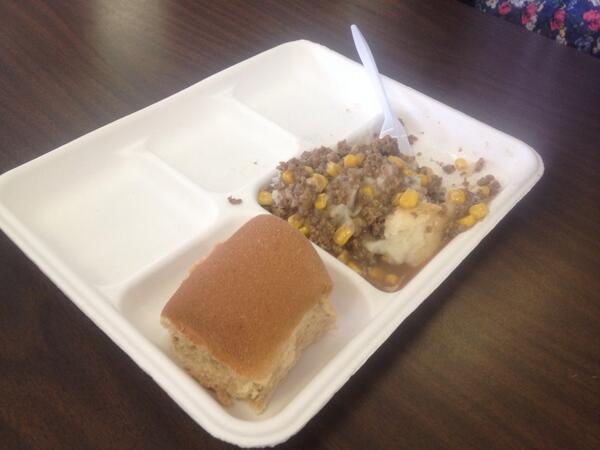 Seconds anyone?
Students weigh in: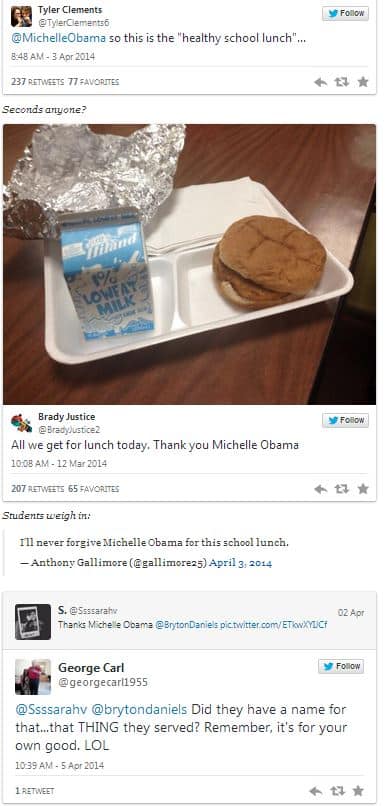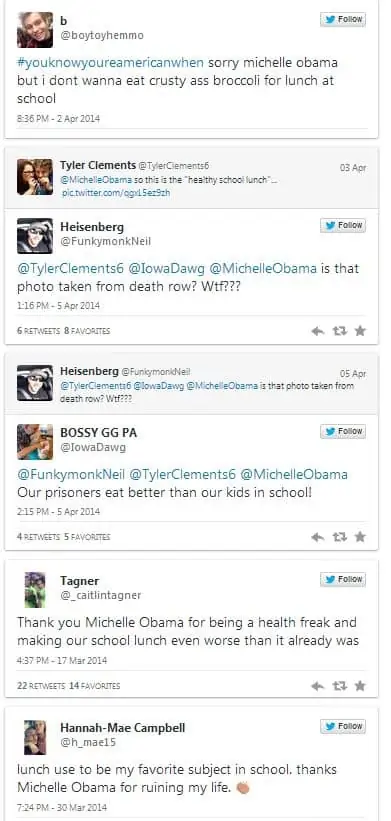 On the flip side, here is what Michelle Obama's children enjoy for lunch at the Sidwell Friends school attended by her daughters Sasha and Malia. In this particular case the school was paying a tribute to Pearl Harbor Day and the kids feasted on Asian Mushroom Soup, Oriental Noodle Salad, Teriyaki Marinated Chicken Strips, Garlic Roasted Edamame, Vegetable Fried Rice and Fortune Cookies for dessert:
And of course, how can we talk about healthy eating, school lunches, and Michelle Obama without mentioning the White House organic vegetable garden? The First Lady shows of her green thumb in the picture below. It turns out, however, that because of her busy schedule she didn't actually grow any of her food. The White House gardeners did, and they did a heck of a job.
Straight from America's organic gardens to school lunch tables coast to coast.