Mayor Bill de Blasio just declared a public health emergency in parts of Williamsburg, NY and said that ALL unvaccinated people, 6 months or older, will be required to get an MMR vaccine. (This mandate covers people who live in the ZIP codes of in Brooklyn's Williamsburg neighborhood, where more than 250 people have gotten measles.2 Those zip codes are 11205, 11206, 11221 and 11249.) This means that members of the city's Health Department are allowed to check the vaccination records of any individual who may have been in contact with infected patients. (A direct HIPPA violation?)
Not unlike Alex Jones (who now says he had suffered a psychotic break when saying no one died at Sandy Hook), Erin of Health Nut News' amped up presentation is doing a lot more than to inform and warn. Like so  much of the "truth movement" (and many if not most of us have been caught in this, including myself,) she is creating panic and inciting an uprising. And folks, that is simply not scriptural. But it is how they steer and engineer society.
So, before we jump and scream against this insane violation against the autonomy over our own bodies, let's look at the details. Who is this story about? This declared a health emergency followed a measles outbreak in an Orthodox Jewish community in Brooklyn. Why is this significant?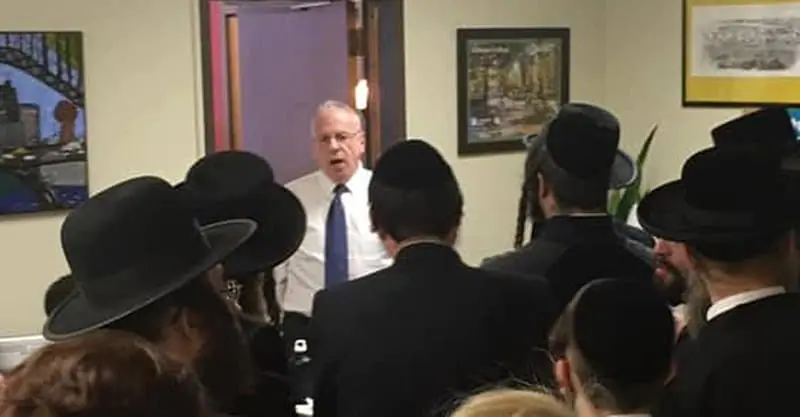 "The Hasidic community is Ultra Orthodox and many do not believe in vaccination, this will primarily come down to a RELIGIOUS FREEDOMS and individual rights issue and they're using the "Jews" because they always use them as the catalyst for extreme change.
The cries of Antisemitism will only fuel the fire for setting aside the liberty for religious and individual freedom to live and worship without fear of governmental reprisal.
It's a win win for them, some in the Hasidic community despise Zionism and recognize that God didn't gather them back into the Land, they actually truly follow Torah and not Talmudic tradition, they simply still don't believe Jesus Christ is the Messiah.
These are the ones being used as pawns to instigate this "outbreak" panic and they're the ones who will be first hit with the fallout over this. This is about setting a LEGAL precedent." Allison Page Walters
Look at this article from the Washington Post:
"In New York City late last year, the health department ordered yeshivas and child-care centers in the Orthodox Jewish community to keep out unvaccinated students. One school that violated the mandate has been linked to more than 40 cases, the health department said.
"We're making clear that unvaccinated students will not be allowed in schools or day cares," de Blasio said.
Insured adults and children will be covered. Those who are uninsured will pay what they can afford, de Blasio said, and those who cannot afford the vaccination will receive it free.
The vast majority of American Jews are vaccinated, but small groups of Jews with stricter beliefs have chosen to put confidence in their faith rather than health officials. Others mistrust the government.
Most rabbis encourage vaccination based on the Torah commandment to protect one's life," Rabbi Yuval Cherlow, founder and head of the ethics department of the Tzohar Rabbinical Organization in Israel, told The Post on April 3.
"In Judaism, the majority has the right to dictate what takes place in the public space to ward off danger."
Still, he said,
"there is no pope in Judaism, and no one can force you to vaccinate."
The outbreak in the area has been tied to a child who had not received the measles, mumps and rubella (MMR) vaccine and contracted the disease during a trip to Israel."
"They used the Sephardic Jews the same way in WWII, to act as a humanitarian catalyst that drew in Britain and America. This is the same pattern over and over again. We have no need to fear ANY OF THIS. You know I don't agree with vaccination, I haven't been vaccinated in YEARS and scream at the top of my lungs to anyone who will listen about the Evils of vaccines, but if it comes down to it we go to the slaughter LIKE LAMBS the same way Jesus did. NOT holding guns screaming curses, not crying in FEAR for ourselves or our children and families, we remember what happened with Peter and the guard and we pick up our Cross and follow Jesus." Walters
Psalm 44:10-26
Romans 8:18-39
For I reckon that the sufferings of this present time are not worthy to be compared with the glory which shall be revealed in us.
19 For the earnest expectation of the creature waiteth for the manifestation of the sons of God.
20 For the creature was made subject to vanity, not willingly, but by reason of him who hath subjected the same in hope,
21 Because the creature itself also shall be delivered from the bondage of corruption into the glorious liberty of the children of God.
22 For we know that the whole creation groaneth and travaileth in pain together until now.
23 And not only they, but ourselves also, which have the firstfruits of the Spirit, even we ourselves groan within ourselves, waiting for the adoption, to wit, the redemption of our body.
24 For we are saved by hope: but hope that is seen is not hope: for what a man seeth, why doth he yet hope for?
25 But if we hope for that we see not, then do we with patience wait for it.
26 Likewise the Spirit also helpeth our infirmities: for we know not what we should pray for as we ought: but the Spirit itself maketh intercession for us with groanings which cannot be uttered.
27 And he that searcheth the hearts knoweth what is the mind of the Spirit, because he maketh intercession for the saints according to the will of God.
28 And we know that all things work together for good to them that love God, to them who are the called according to his purpose.
29 For whom he did foreknow, he also did predestinate to be conformed to the image of his Son, that he might be the firstborn among many brethren.
30 Moreover whom he did predestinate, them he also called: and whom he called, them he also justified: and whom he justified, them he also glorified.
31 What shall we then say to these things? If God be for us, who can be against us?
32 He that spared not his own Son, but delivered him up for us all, how shall he not with him also freely give us all things?
33 Who shall lay any thing to the charge of God's elect? It is God that justifieth.
34 Who is he that condemneth? It is Christ that died, yea rather, that is risen again, who is even at the right hand of God, who also maketh intercession for us.
35 Who shall separate us from the love of Christ? shall tribulation, or distress, or persecution, or famine, or nakedness, or peril, or sword?
36 As it is written, For thy sake we are killed all the day long; we are accounted as sheep for the slaughter.
37 Nay, in all these things we are more than conquerors through him that loved us.
38 For I am persuaded, that neither death, nor life, nor angels, nor principalities, nor powers, nor things present, nor things to come,
39 Nor height, nor depth, nor any other creature, shall be able to separate us from the love of God, which is in Christ Jesus our Lord.
Read Luke 22 and John 18 about Peter and the guard and Jesus's admonition of Peter's healing of the guard
It is only natural to feel anxiety in the face of our government forcibly injecting poisons, parasites and viruses into our bodies! But we need to temper that anxiety by His understanding of what is really happening and rest in the Comfort of His Holy Spirit.
In saying that, of course there is nothing wrong with peaceful protest and voicing our opposition to our representatives, but we need to watch our for the FEAR PIES and maintain our spiritual focus.