UPDATED JUNE 12, 2016
Satanism is obviously more and more outrightly paraded, as can be easily seen in this video featuring the opening of the Gotthard Tunnel in Switzerland on June 1, 2016.
Unmistakable references to Baphomet – and also the "all-seeing eye had to be included, of course.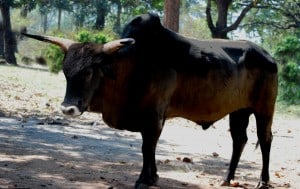 Although the Canton of Uri (where the tunnel is) also has the black head of an auroch (an extinct type of large wild cattle – pictured left)  in its emblem, this has not much in common anymore with the dancing, horned protogonist.
The ceremony on the occasion of the visit of Pope Francis in February 2016 in Mexico was also full of Satanic symbolism – See Here.
(posted on Facebook by Maria Den Breejen)
Text below video translated from German:
"
May God help us !!!
Are we now clear why Angela Merkel had to be there in this "initiation"? "The Gotthard is like the heart, now pending the aorta," said Merkel. And there is still a dispute that we are not ruled by Satanists !!!
Gotthard Base Tunnel…is… currently the longest tunnel in the world. (It was) opened on June 1, 2016. The prelude celebrated builders, planners and thousands invited guests.
Four Herrenknecht machines (made the way through) the massive mountain and broke speed and length records. Today the Gotthard Base Tunnel connects at 57 kilometers Erstfeld Bodio. At the heart of the New Rail Link through the Alps (NRLA) (it) puts Switzerland and Europe closer together. "
Opened on June 1, 2016, The Gotthard Base Tunnel, at 57 km in length is the worlds longest tunnel, cutting through the alpine barrier to increase transport capability throughout Europe.