Earlier this week, the Head of Iran's Civil Defense Organization blamed Iran's drought on "cloud and snow theft," allegedly engineered by Israel.
In a series of comments at the Third National Conference on Non-Proactive Defense in Agriculture on civil defense tactics in agriculture, held in Tehran on Monday, Brigadier General Gholam Reza Jalali condemned Israel for its severe drought, insisting that the country has fallen victim to the 'Jewish State stealing its rain.'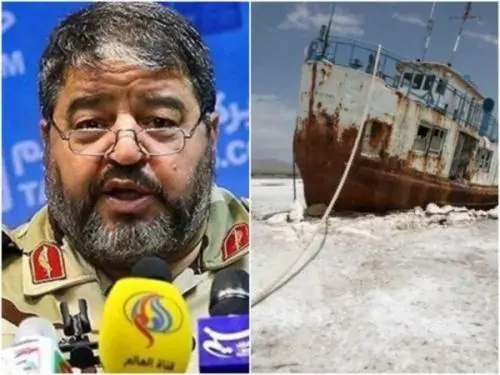 Brigadier General Gholam Reza Jalali addressing media earlier this weak about rain theft via Israel. (Source: Iranian Students' News Agency)
He said Iranian academic institutions had confirmed that foreign entities played a significant role in manipulating weather patterns over the country. A scientific study conducted in the country "confirms" the validity behind Jalali's accusation — mostly directed at Israel, said Iranian Students' News Agency.
"Foreign interference is suspected to have played a role in climate change," Jalali emphasized. "Israel and another country in the region have joint teams which work to ensure clouds entering Iranian skies are unable to release rain," a translated report from the Tasnim News Agency quoted Jalali as saying.
Jalali went in depth to describe the scientific evidence supporting his claims. He said a recent study carried out over the past four years regarding the climate of high altitudes from Afghanistan to the Mediterranean Sea indicated that all elevations above 2,200 meters (7,217 feet) in these regions, except in Iran, have a dense layer of snow.
Tasnim News Agency said climate change has caused many arid and semi-arid areas around the world, including Iran, to suffer from severe drought, which has forced Iran's Ministry of Energy and the Islamic Revolution Guards Corps (IRGC) into cloud-seeding operations.
Ahad Vazife, the head of the Islamic Republic's meteorological service, acknowledged that Jalali's statements regarding Israel stealing Iran's rain was scientifically impossible.
"[General Jalali] probably has documents of which I am not aware, but on the basis of meteorological knowledge, it is not possible for a country to steal snow or clouds," Vazife was quoted by ISNA, according to The Times of Israel.
Twitter users erupted with laughter in both countries this week, after Jalali's statements on Monday. Here are some of the tweets:
One IDF reservist said, "Special Israeli Mossad agent stealing #Iran's clouds in action."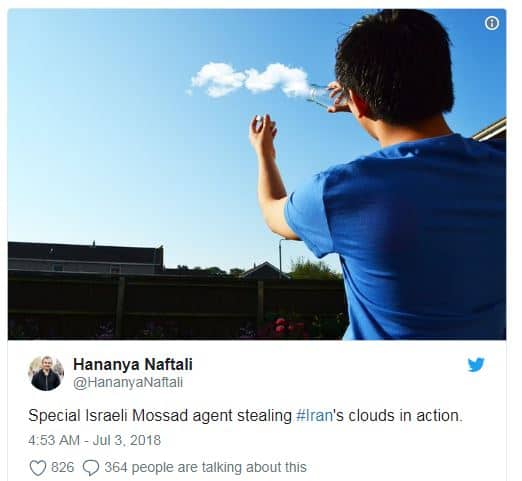 An Israeli Diplomat in the US tweeted, "The uber-genius head of ?#Iran's civil defense organization Brigadier General Gholam Ridha Jalali presented a research which proves Israel is stealing the rain and snow clouds destined to Iran, to cause a drought now that's true @NobelPrize material!"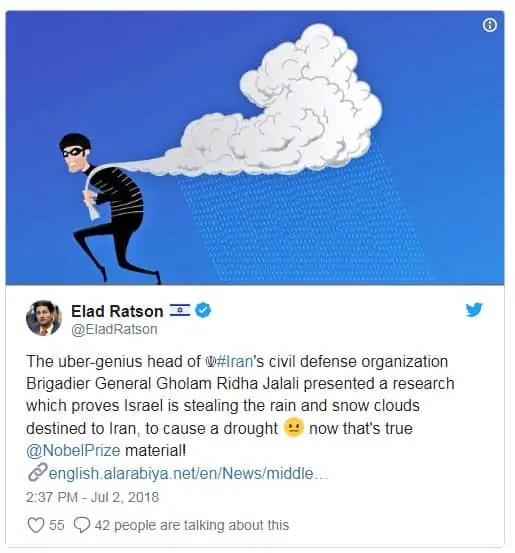 Ex-Deputy Head of Iran's Dept. of Environment tweeted, "Developing a conspiracy theory is the best strategy to justify failure! Head of Iran's Civil Defense Organization is skeptical of #ClimateChange and claims that Israel & 'one of the neighbors' have caused a #drought in Iran by stealing clouds & snow! #CloudStealing."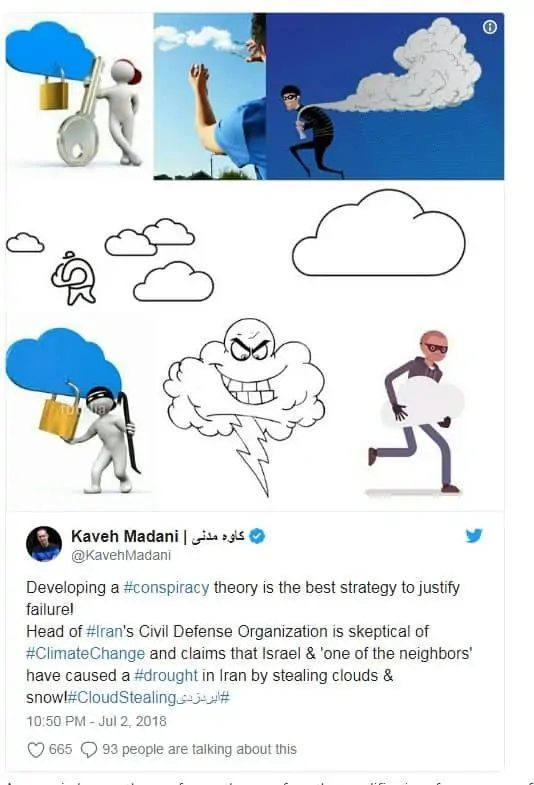 As a reminder, weather warfare or the use of weather modifications for purposes of causing damage or destruction was prohibited by world governments on May 1977 in Geneva and entered into force on October 1978 via the Environmental Modification Convention (ENMOD).
While the technology for weather manipulation has been around for decades, it is anyone's guess to the validity of Iran's claims that Israel is stealing its water through weather modification techniques. However, it is important to know that the technology does exist and both countries want to nuke each other.