How refreshing to see Christians addressing these issues! Please share with those you may know in Wisconsin!
LEARN THE SCIENTIFIC EVIDENCE OF 'CHEMTRAILS' THE EVIDENCE Regarding Geoengineering &?its Effects
Wednesday August 1  •  7 pm
WISCONSIN CHRISTIAN NEWS MINISTRY CENTER
327 S. Central Avenue, Downtown Marshfield, Wis.
Featuring Guest Speaker LEO CASHMAN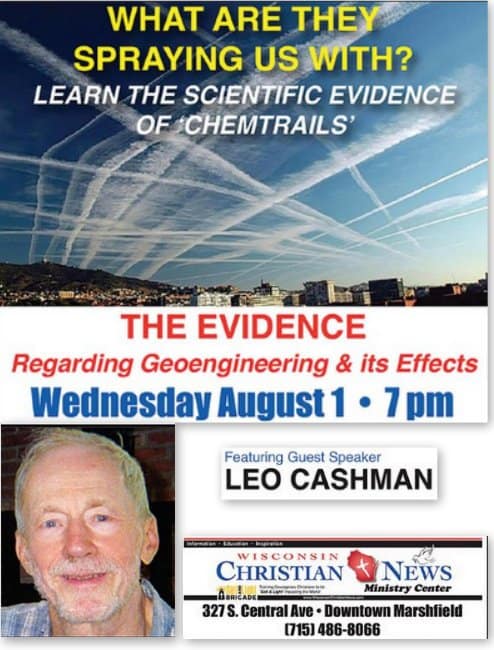 Leo Cashman is a co-founder of a non-profit group called Stop Geoengineering Minnesota. It was formed in 2013 to become part of the national and international effort to probe into the issue of "geoengineering," also called "climate engineering," why it is happening  and how it may be affecting our health, the health of the entire ecosystem, and the future.  What is obvious is that this covert program is huge, widespread on the earth, and funded by our government, it is also being covered up by government, by the corporations that are involved, and by the media that supposedly tells us about all matters of importance.
Stop Geoengineering Minnesota is a sponsored project of Minnesota Natural Health Coalition (MNHC), which itself is a 501(c)(3) tax exempt non-profit which was formed in 1997.  The work of this project fits in the mission of MNHC, which is to educate the public about natural health and obstacles to health and to our health freedom.  Leo Cashman has been a writer and health educator for the last twenty years and he is known nationally for his educational work on the issues of dentistry and how it can affect health, for better or for worse.
In the past twenty years, our skies have been subject to aerosol spraying that has muddied the sky, reduced sunlight, and affected our health and the health of the entire ecosystem because particulates being sprayed pollute the air we all must breathe, and the soil and the water we all depend on. While some observers assume that the secretive program is a scheme to rescue the planet from global warming, evidence largely suggests that it is making global warming worse, not better, and that there is a military weapons agenda that is over-riding all other considerations.
Leo Cashman brings a scientific background into his work, with a BS degree in physics and a MA degree in mathematics.   Leo Cashman will discuss what we can to educate the public on how climate engineering harms the health of humans and all life, and may be undermining the future ability of the earth to sustain life.  DON'T MISS THIS INFORMATIVE, SCIENTIFIC PRESENTATION!
WISCONSIN CHRISTIAN NEWS MINISTRY CENTER